Sony Xperia Z3 review: Hat trick
Introduction

To say we are eager to get the Xperia Z3 out for a spin would be a massive understatement - with the race track still warm from the Compact. After all, if the Robin in Sony's IFA lineup can do that well, we can only imagine what Batman is capable of. The Z3 is certainly one you wouldn't want to miss.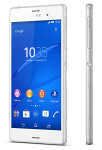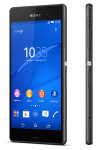 Sony Xperia Z3 official pictures

Sony's shorter update cycle sees the Xperia Z3 clock in just 6 months after its predecessor. At first glance, the next flagship isn't too generous with the upgrades, but anyone who has handled the Xperia Z2 will see most of its key issues addressed.
Curved at the edges for a fresh new look, the handset is supposed to offer improved ergonomics. Add the slimmer bezels, the loss of weight and the slimmer profile, and the Sony Xperia Z3 is already looking strong in the only area where its predecessor was open to criticism.